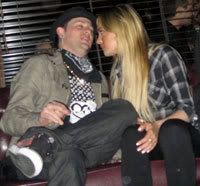 While Nicole Richie was home caring for 4 month old Harlow, her fiancé Joel Madden spent a boozy night partying with Lindsay Lohan(Pictured Above).
Joel deejayed at Hornitos' Cinco de Mayo party at Crown Bar in L.A. While there, the Good Charlotte rocker seemed more interested in a seductive Lindsay than in spinning records.
"Their heads were practically touching, and he had his leg over hers," says one onlooker. "Joel has a flirtatious side, and he definitely wasn't turning her away."
Nicole was immediately alerted to the situation by her arch-frenemy Paris Hilton, who sent her a devastating text message: Lindsay was all over Joel!
The situation only got worse when Nicole tried calling Joel's cell phone and he never answered. Apparently he was too busy with Lindsay and never hear his phone ringing.
Poor Nicole, sitting at home caring for their child, while her fiance was out flirting!! And Lindsay, that girl seriously makes me sick. She is always trying to steal everyone else's man--GO FIND YOUR OWN!!!
Some sources are saying that she was just being nice, but I don't believe it at all. What do you think?? Nice and friendly Lindsay?? Or Evil-Man Stealer???
source: star magazine