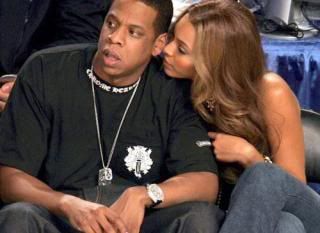 Friends of Jay Z and Beyonce are saying that the singer is pregnant with their first child. A source said, "She has gained a lot of pregnancy weight," "When she gains weight, she normally does the Def Jam detox, but not now." A lot of pregnancy weight?? They haven't even been married that long.
Beyonce's rep commcented, "I don't know if she's pregnant. Let me perform an ultrasound and get back to you." What a bitch. It would have been better if she said nothing at all. But i guess it must be annoying to get calls all day with the same question, but damn it is her job.
Mathew Knowles (Beyonce's dad/manager) had this to say to US Magazine:
"They said that a month ago,"(That she was pregnant) "We don't comment," he said. "We just let people make fools of themselves."