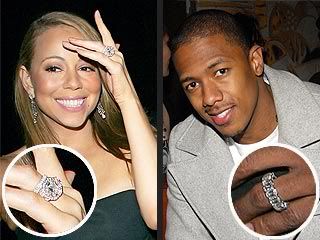 Carey, who attended TIME magazine's "100 Most Influential People in the World" event with her new husband, showed off her impressive pink diamond sparkler from of Jacob & Co. jewelers. The ring, valued at a whopping
$2.5 million, is 17 carats
. The center stone alone is 10-carats – a little smaller than a dime.
"I wanted to do something extremely special, something that Mariah would really appreciate," Cannon said. "We got the pinkest stone we could find, surrounded by other diamonds."
Carey definitely approved. "It's so clear, you can see my finger through it," she said.
According to Jacob Arabo of Jacob & Co., Cannon "was very involved," in picking the ring, which has an emerald-cut fancy light pink center stone surrounded by
58 intense pink diamonds, flanked by two half-moon diamonds
.
"The way he came into the store, I knew this was very serious," Arabo said. "He said, 'Jacob, I'm in love. This is what I want to do.'"
While a diamond may be forever, the couple's
new tattoos
– his says "Mariah" across his shoulders, and hers reads "Mrs. Cannon" on the small of her back – will last a lifetime. "Rings and all that is special and exciting," said Cannon. "But to us, tattoos mean more than anything because it's something we never thought we'd do."
I can't believe after "dating" for a month, they have a super fast wedding and now tattoos, I'm not sure that they know tattoos last
forever
.