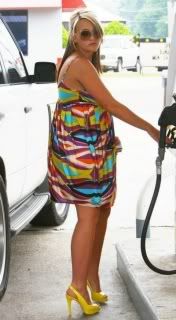 Jamie Lynn's mom, Lynn Spears, wants Jamie Lynn and Casey Aldridge to get married.
"Jamie Lynn is having a shotgun wedding, and it's Lynne who is holding the shotgun!" a family friend says. "Lynne is determined not to let her younger daughter be a single mother," the pal adds, and she's pushing hard to arrange a hurry-up marriage this summer.
But sources say 17-year-old Jamie Lynn is reluctant and may have to be prodded all the way to the altar. "She's told her parents that she will not commit to a date," a family insider reveals. "I just don't think she wants to marry Casey."
I really hope that Jamie Lynn starts thinking for herself and doesn't listen to her mom. It seems she is doing good right now not really listening to her mom and rushing into this wedding. She doesn't need to be married to raise a child. Look at Britney, she got married and it didn't help her relationship, or her kids.