Inseparable duo Lindsay Lohan and deejay BFF Samantha Ronson turned heads during a party on Diddy's yacht in Cannes. The pair stuck together all night, holding hands and being affectionate. While the two say they're just friends, they're frequent travel and party companions – with Lohan, 21, joining Ronson for many of her deejay sets.
Mom Dina Lohan recently talked to PEOPLE about Ronson, calling her "a sweetheart."
"She's great – and she's the best spinner around," Lohan tells PEOPLE. And while their daughters are pals, so is Dina and Ronson's mother, writer Ann Dexter-Jones: "I'm friends with her mom," Lohan says. "She's raised some extremely talented kids. It's a talented family."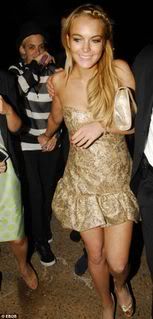 In this second picture, it was strange to see that Lindsay - who isn't seeing anyone at the moment - had a ring on her engagement finger.
And finally the kissed that sealed the deal!!! I don't know why they have to keep hiding the fact that they are dating, but whatever we'll see what comes out of all this. I'm sure just more denying!!!