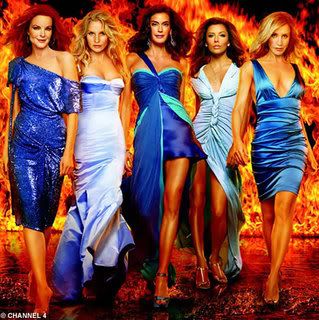 Do not read on if you do not want to know:
There has been some talk about aging all the characters on the show and it's true, "Desperate Housewives" will flash-forward five years.
Marcia Cross, who plays Bree on the show, told a radio show in a recent phone interview that a flash-forward narrative device will offer viewers a glimpse into the future lives of the Wisteria Lane gang.
Cross also said her character makes "a big leap."
"She's gone out into the world and she's become a bit of a success," the 46-year-old actress said.
When asked if that success has anything to do with the catering business Bree started with her neighbor Katherine (Dana Delany), Cross replied, "It does have to do with the business. Bree definitely has made a name for herself."
And Bree -- the embodiment of preppy style -- will change her look.
"Let's put it this way, the (hair) flip has died and I'm so happy about that," Cross said.
She also revealed that Eva Longoria Parker's character, Gabrielle, "has had some children."
When asked what becomes of the troublesome Kayla (Rachel Fox), who is Tom's (Doug Savant) daughter, Cross said, "She hightails it out of town or is hightailed out of town."
The season finale of "Desperate Housewives" airs Sunday.