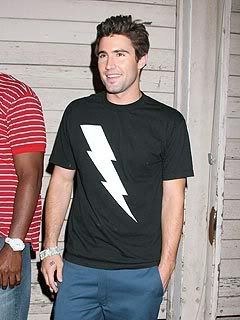 Apparently Brody Jenner is upset at recent reports stating that he is a womanizer.
"Just because I date just like everyone else does, for some reason they say I'm a serial dater,I think that's very disrespectful to say because I was raised by my mother and
I treat women with respect
."
The bachelor says he's only doing "what every 24-year-old kid would do in my position."
As for his ex Cora Skinner, Jenner says, "Cora is special to me. We still hang out. We're trying to work things out still."
The Hills is currently filming their fourth season and Brody says there's plenty of drama to come, but it won't be between him and former best bud, Spencer Pratt.
"Obviously our friendship will never be the same as it was, but I've never had anything bad to say about him. I love Spencer and I always will as a friend," Jenner said.
But when asked whether they planned on working on future projects together, such as a rumored upcoming reality show, he said no.
"We're going to work on our friendship and hopefully we'll get back to where we were. We're not back to being best buds and running around like we used to."
I sure hope they won't go back to being best friends. Spencer is such an asshole and talked so much shit about Brody when they weren't friends. He would be so stupid to fall back into his trap.
I don't really feel bad that people call him a serial dater because he is, he always has a new woman on his arms. Just because he dates lots of them doesn't mean he doesn't respect them--no one ever said that, so I don't know why he made a point of saying that. Hmm I don't know..whatever