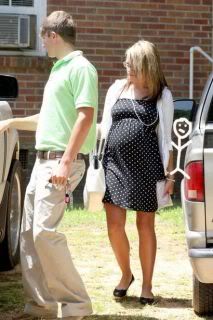 Jamie Lynn Spears and babydaddy Casey Aldridge spent Mother's Day at a local church service in Gloster, Mississippi, on Sunday.
Jamie's momma, Lynne Spears, is still in California.
After spending about an hour inside the church, the family left and went for lunch.
So despite all the break-up and marriage rumors, it looks as if this couple is doing just fine. I like that she stays out of the public eye and hangs in her and Casey's hometown--doing things they always did, like go to church and shop at Wal-Mart ha!!