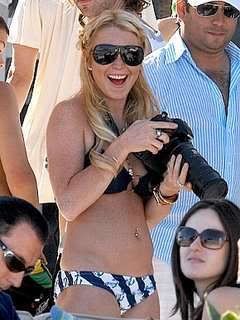 Lindsay Lohan's 22nd birthday is approaching and she's planning on throwing one hell of a bash…if she raises enough money! They are calling it "Lindsay Lohan's MO-ROCKIN' 22ND Birthday".
There's been a website set-up for it,
click here
to check out this crazy shit, in which the overview states:
"Sponsors will have a unique branding opportunity at an internationally media worthy event…Upon nightfall an intimate group of 75 VIP guests will gather for dinner, performances and most importantly to help Lindsay blow out the candles on her 22nd birthday cake."
Sponsors receive the following:
*Inclusion in gift bags
*Logo on invites
*Signage around the venue
*Product will be distributed in the hospitality suite
*Images of Lindsay and VIP guests with the product
*Inclusion in all press materials
Wow, that is just crazy. Is she really that pathetic that she needs a sponsored Birthday party. I guess she is such a loser now that no one wants to "throw" her a party--like I'm sure shes had done for her in the past. I'm sure her girlfriend Samantha will figure something out for her!!