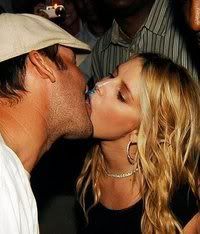 Saturday night, Jessica Simpson and Tony Romo looked every bit the happy couple at N9NE Steakhouse in Dallas. "They were holding hands, in a good mood and happy"."They looked like they were on a date together."
This comes after Ashlee's wedding, where they were "kissing and holding hands throughout the night."
Simpson and Romo shared a cozy corner booth in the restaurant where they "looked happy and were laughing and smiling," the source said.
So despite the cheating rumors, Romo's hookups with girls in Chicago, and the breakup rumors they are still happy after all.
I just don't see why if they were broken up they would go to all this trouble to make the public believe they were still together. No one does that. It made (sorta)sense for the sake of the wedding but playing it out this long would just be ridiculous. Maybe all the reports were wrong and they are still a happily in love couple. Who knows?? What do you guys think? Publicity or In-Love??
*This picture is not related to this story other than the fact it's Jessica and Tony in it*