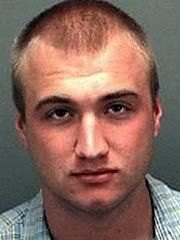 Terry "Hulk" Hogan's 17-year-old son, Nick Bollea, entered a plea of "no contest" in a Florida courtroom today on charges of felony reckless driving.
The charges stem from the August 2007 car crash that left his friend, passenger John Graziano, critically injured to this day.
As part of the plea agreement, Bollea's attorneys asked that their client not serve more than one year in county jail and five years of probation. Without the plea arrangement, Bollea could have faced up to five years in state prison.
Hulk Hogan (real name: Terry Bollea), his daughter Brooke and his estranged wife Linda were all present and seated near one other in the Clearwater, Fla., courtroom.

Prosecution and Family Speak
During the sentencing portion of the hearing, prosecutors presented, among other evidence, the statements of 12 witnesses who claimed Bollea was drag racing on wet roads at the time of the accident as well as records of his being ticketed for speeding in the past.
Ed Graziano, father of John Graziano, then made an emotional statement to the court: "John was my first born son, and the first chance to carry on my family name." Describing the day before the accident, he said John "was healthy, he was safe, and he was strong. He was a hero. He was a United States Marine. He was willing to put his life in harm's way to protect his country's freedom, [but] what Al Queda could not do to my son, Nick did to my son in minutes." Now it is questionable whether John will ever be able to communicate with his family and friends, said his father, adding that that his son's mental and physical disabilities would be permanent. He also said, "Nick has shown no remorse for what he has done for my son's life."
John's sister, Kristen Carson, also spoke, saying of Nick, "We have never once heard him apologize. He has
never
said sorry."
John Graziano's long-term girlfriend then spoke, talking of dreams of a beach house and having children together – dreams that are now gone.
The Hogans Respond
Nick Bollea spoke on his own behalf, telling the court, "I miss John being around me all the time. I know this has been extremely difficult for the Grazianos, and it has also been extremely difficult to my family, and I feel terrible about it."
Apologizing for what occurred, he said, "Every single day I think about the accident, and I think about John. There will never be a day in my life that I don't."
Hulk Hogan, wearing a black business suit and black 'do rag, assumed a somber tone, saying, "Our family has been devastated and pretty much torn apart by this situation also. John was like a family member to us."
Of his own son, he said, "Nick is not the person that he's been asked to be portrayed on TV. ... Nick is a good person. He is kind, he is gentle, he's compassionate, and he doesn't have a bad bone in his body. And people fail to realize that Nick is still a 17-year-old child." Nick's sister Brooke said, "I'm not here to smooth things over, or to point fingers … These were two boys, two friends having fun together."
Such a sad incident. I really feel horrible for both families whose lives have been changed by this event.