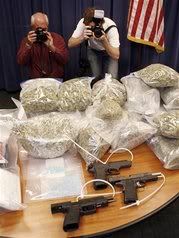 Dozens of San Diego State University students were arrested and six fraternities were suspended after a sweeping drug investigation found that some fraternity members openly dealt drugs and one even sent a mass text message advertising cocaine, authorities said Tuesday.
A five-month investigation prompted by a cocaine overdose death last year led to the arrests of 96 people, 75 of them San Diego State students. A second drug death occurred while the investigation went on.
Twenty-nine people were arrested early Tuesday in raids at nine locations including the Theta Chi fraternity, where agents found cocaine, Ecstasy and three guns. Eighteen of them were wanted on warrants for selling to undercover agents.
Two kilograms of cocaine were seized in all, along with 350 Ecstasy pills, marijuana, psychedelic mushrooms, hash oil, methamphetamine, illicit prescription drugs, several guns and at least $60,000 in cash, authorities said.
Profits may have been used to finance fraternity operations, they said.
A member of Theta Chi sent out a mass text message to his "faithful customers" stating that he and his "associates" would be unable to sell cocaine while they were in Las Vegas over one weekend, according to the DEA. The text promoted a cocaine "sale" and listed the reduced prices.
Those arrested included a student who was about to receive a criminal justice degree and another who was to receive a master's degree in homeland security.
Wow they are idiots. And also after one of them was arrested, they inquired as to whether this arrest and incarceration would affect his change of being a federal law enforcement agent---is he serious???