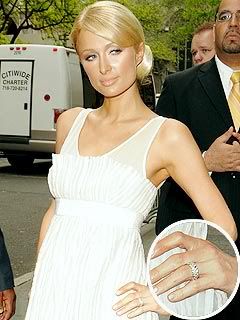 Paris Hilton showed up to talk about her new hair extension line with Sally Beauty Supply wearing a notable new accessory:
a two-banded diamond ring on that finger
Asked if it were an engagement ring from boyfriend Benji Madden, Hilton said, "No, it's just a present. He's sweet."
Still, the duo have already discussed marriage. "We want to stay together forever," she said Thursday. "I wouldn't do a Vegas [wedding]. I don't know where or when but I do want it to be romantic."
Betting that Nicole Richie and Joel Madden will beat them to the altar, Hilton doesn't mind following in her best friend's footsteps another way, as well. "Nicole is our first friend to have a baby ... Seeing Harlow, it really makes me want one. I've always wanted to have a baby."
Until then, she's content on practicing her mommy skills on Harlow. "I'm definitely 'Aunt Paris.' " As for Benji? "He'll babysit. I can tell he's gonna be an incredible father. He loves babies."
Hmmmm is marriage and a baby on the way for the new couple???