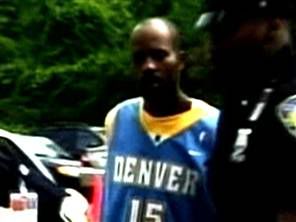 3 days after he was just arrested, DMX is back in jail.
Authorities say DMX has been arrested on drug and animal-cruelty charges in Phoenix following an overnight raid on the rapper's house. The Maricopa County sheriff's office says the 37-year-old, whose real name is Earl Simmons, at first tried to barricade himself in his bedroom. He came out as a SWAT team entered during the early-morning raid Friday.
The indictment stems from an August search of the rapper's home prompted by reports of dogs being abused on his property.
His attorney, Murray Richman, says he told his client to expect such a raid after his efforts to make DMX available to law enforcement were rebuffed. Richman says the animal cruelty charges are not supported by the evidence.
(See older post for his previous arrest story)