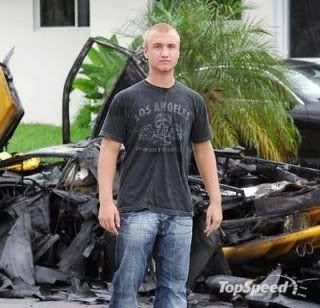 Nick Bollea was sentenced to eight months in a Florida county jail today after pleading no contest to charges of felony reckless driving, stemming from the Aug. 26, 2007, car crash that left his best friend, John Graziano, in critical condition.
In addition to the jail time, which begins immediately, Bollea, 17, was sentenced to five years probation, during which he will serve 500 hours of community service, not be allowed to drink any alcohol and have his driver's license revoked for three years.
After being sentenced he turned around to look at the Graziano family and said: "I will never ever be able to say I'm sorry enough."
Dressed in a gray suit and light blue shirt and tie, Bollea looked somber as he was taken to meet the court officers. His father, Hulk Hogan (real name: Terry Bollea), stood and watched as uniformed authorities removed his son from the courtroom. Nick did not have a chance to say goodbye to his family before he was taken into custody.
In delivering his sentence, the judge specifically asked that Bollea use his community service to do something positive "that reflects what John did in his service to our country as a Marine."
Felony Conviction to Be Erased
Citing Bollea's age and his lack of any prior criminal record – beyond a series of speeding tickets that the judge deemed as showing a "cavalier" attitude behind the wheel – the jurist decided not to force Bollea into guilty verdict, meaning his "no contest" plea will stand. He also will not have a felony conviction on his record once he turns 18 later this summer.
"I think there is an understanding of what happened, and there is a sense of acceptance of responsibility," the judge said, explaining his decision. "There is nothing that the court can impose that is close to what John has dealt with or will have to deal with as he moves forward."