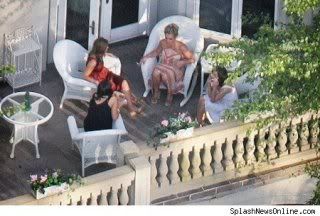 It was a family affair Saturday as mom to be Jamie Lynn Spears had her baby shower in Kentwood, La.
About 30 guests were invited – including Britney – to Kentwood for a ladies-only, catered celebration for the 17-year-old at the family's Serenity mansion. "Jamie Lynn opened every gift," says a source, adding that mom Lynne and fiance' Casey Aldridge's mother lent a hand.
"We all sat in a circle and she opened gifts and thanked every person. It was just a good old fashioned baby shower."
Though sheriff's deputies were posted at the gate and paparazzi circled in helicopters, "it was a normal shower," says the source. "A wonderful, sweet occasion."