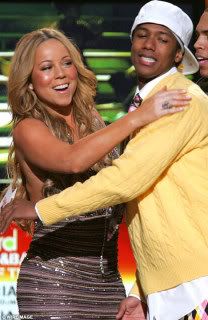 Earlier this week, Carey, 39, was seen sporting a large ring, as she and Cannon, 27, held hands at the bash at Cadillac Lounge at Tenjune after the premiere of her movie Tennessee at New York's Tribeca Film Festival.
The ring, jeweler Jacob & Co. confirmed, is crafted from platinum and features a square, emerald-cut fancy light pink diamond in the center, surrounded by 58 intense pink diamonds, flanked by two half-moon diamonds. The total carat weight of the ring – the center stone alone is 10 carats – is a jaw-dropping 17 carats, with a value of $2.5 million.
They are said to have had a rushed wedding in the Bahamas at her mansion there. It was confirmed by an aunt Linda Cannon who told E! News that "Yes, we know. He called us and told us all about it. We are happy for him. If that is what he wants then we are happy for him." Few close friends including Da Brat were in attendance.
The biggest part about this, was that apparently
no pre-nup
was signed. Now that is just stupid. She is worth so much more than he will ever be worth. I don't know what she was thinking. Makes me remember Eminem talking about how crazy and desperate she is. Guess she really is!!! Oh well good luck to them, and I wonder how quick this divorce will come.