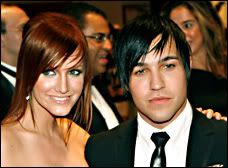 Thanks to the Washington Post, we have a new list of male, celebrity-hanger ons. "A strapping new crop of boy toys have risen to carry the title of biggest male celebrity hangers-on. Below, in convenient list form, the entertainment world's biggest testosterone-rich accessories" :
Pete Wentz: The diminutive makeup-wearing Fall Out Boy bassist was just another MTV snippet until he started dating Ashlee Simpson. Now, with rumors of a baby on the way, Wentz has parlayed his romance into 24/7 paparazzi coverage.
The Madden Brothers: After Joel scored a coveted gig as Nicole Richie's baby daddy, brother (and Good Charlotte bandmate) Benji worked his way into Paris Hilton's heart and onto the paparazzi radar. Not bad for two pasty brothers from La Plata, Md.
Nick Cannon: The former "Wild 'N Out" host and shameless self-promoter is number three with a bullet following recent rumors of an engagement to the current queen of the pop charts Mariah Carey. Previous romances include Kim Kardashian, singer/actress Christina Milian and Victoria's Secret model Selita Ebanks (to whom he proposed marriage on the Times Square Jumbotron).
Ashton Kutcher: Sure, he's a "producer" and the brain behind the cultural phenom that is "Punk'd," but our main fascination with the "That '70s Show" alum continues to be his age-defying relationship with super cougar Demi Moore, 15 years his senior.
David Beckham: Yes, there's the whole sports star thing, but this footballer would be nothing without his high-glam, high-profile Spice Girl wife, Victoria.
The Wannabes- Rick Saloman: His marriage to Pam Anderson lasted only a few months for this one-time Paris Hilton sex tape partner.
Adnan Ghalib: Britney's family has effectively shut down Spears's relationship with this paparazzo with aspirations of crossing to the other side of the camera.
I agree 100% with this list and I'm sure there are plenty more of these out there.